PASSIVEHAUS HOUSE BUILDERS
TOTAL Group are able to take your Passivhaus Home build from inception through to completion
What is Passivhaus house ?
Passivhaus is a rigorous efficient property design standard for homes to achieve a constant supply of fresh air whilst maintaining a comfortable indoor air temperature 
Passivhaus homes are more complex and expensive to build than conventional construction methods, but having a controlled atmosphere saves money and significantly reduces energy consumption making them highly eco-friendly. 
But even without achieving Passivhaus status, similar principles surrounding thermal bridging, windows, insulation, ventilation, and heat recovery can be applied to any project to improve sustainability energy efficiency. 
Building Passivhaus Homes 
Passivhaus homes on a scale are often built using modular techniques. Using traditional building techniques is more affordable and can provide a model for which Passivhaus homes can be constructed at scale, helping to fight climate change and support the push to net zero emissions by 2050 
Passivhaus House Designers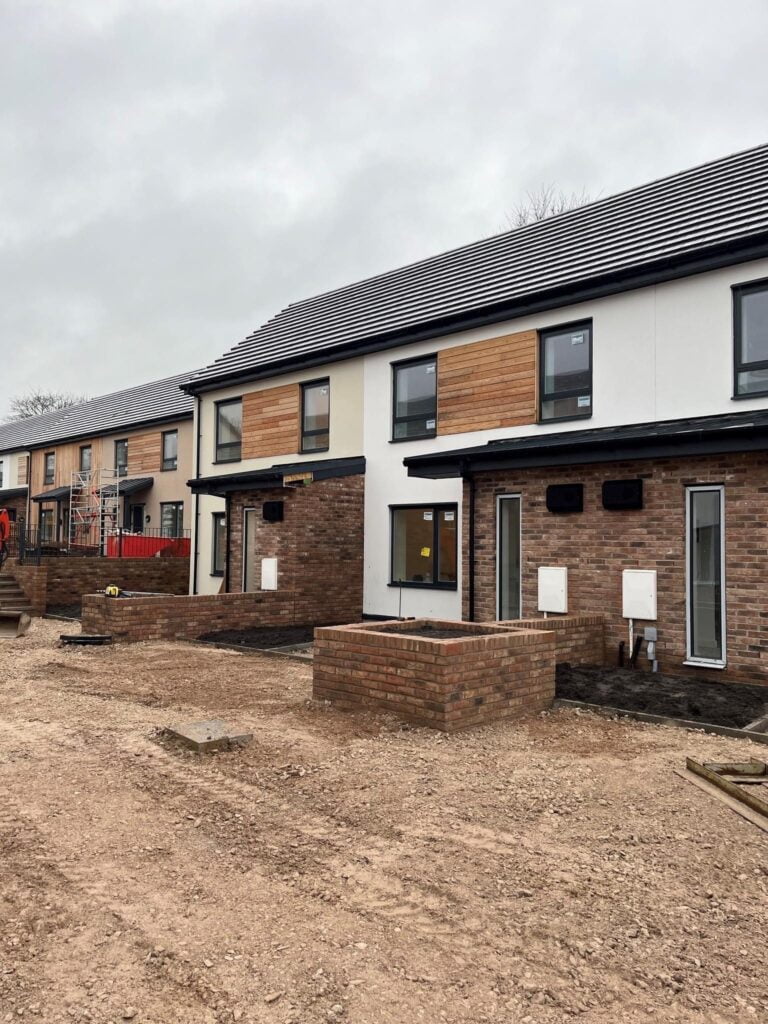 How Passivhaus homes work
Passivhaus works by using elevated levels of insulation and draught free construction to ensure no heat is lost from the home. 
To heat the home a ventilation and heat recovery system takes moist warm air from rooms such as the kitchen and bathroom and uses the heat to warm fresh air from outside. 
This warm, fresh air is then ventilated to other rooms. Water from the moist air is expelled ensuring high indoor air quality. 
Passivhaus is also heated by the aspect and roof design, ensuring the sun enters through windows in the winter, heating the home, but is shaded in summer keeping the house cool. 
What are the benefits of Passivhaus homes? 
Passivhaus homes have many benefits including a regular and comfortable year-round temperature, high indoor air quality, quiet, (due to high insulation), efficiency with low running costs helping to alleviate fuel poverty and are built to a high quality. 
The UK Government has declared a climate emergency. We must act now to mitigate and adapt to the challenges ahead for our children and ourselves. 
Passivhaus homes help towards this by being both highly energy efficient and needing exceptionally low energy to heat the home. They also maintain a very constant comfortable temperature through temperature extremes which will increase with climate change. 
Total Commercial Passivhaus Design & Construction
Total Group have recently been involved in a Passivhaus Commercial built on behalf of Linc Cymru Housing Association consisting of 34 flats and 4 general needs mid terrace houses. The development will also include an outdoor fitness area and edible elements within the landscaping to further improve residents' health.  
The fitness equipment will also be able to charge a mobile phone. Residents will be encouraged to actively participate in these activities by working with local community groups who specialise in improving fitness.  
The innovation element to the scheme centers on construction techniques to achieve Passivhaus certification 
Ready to start your project ?
Please complete the form below and someone from the Total team will be in touch.
One partner, endless solutions